Amazon Fire TV Stick

- Pretty darn amazing for $20 when they were on sale (now $40). The setup experience is pretty excellent with my amazon account already setup for me. After setting up wifi and a firmware update I was up and running.
- I really like the UI. This is my first fire product, and I like it. Everything feels fast and responsive.
- Having an actual remote and local storage for android apps is nice. There was a bit over 5.5gb left for apps. There was even a setting to allow side loading which I'll dig deeper later. It seems like you push apk's from your pc over the lan.
- Prime video looked great and output dolby digital 5.1 plus.
- The other apps I briefly tried all performed well: netflix, youtube, plex (change the default bitrate to max and it looks a lot better), twitch, tunein. Everything was responsive and looked good.
- fire tv remote control app is only on android for now. The iOS version isn't out yet. I tested it with my nexus 7 2013 and it worked fine.
- Sonic games won't work without a controller. It doesn't work with the remote. I tried pairing my dualshock 4 (hold down share then ps button until it flashes to put into pairing mode). The fire tv would discover the controller but pairing would fail every time. I tried some other game called unpossible with the remote and it worked fine.
- Mirroring with my nexus 7 worked ok but was just an overall pretty crappy experience like pretty much every time I tried mirroring under android. Minecraft: mirroring fails. Facebook: worked fine. Chrome: failed after a while. Sky Force: worked ok but serious performance issues on the tablet made it pretty unplayable.

For $20 I'm super impressed. Even at $40 it's probably not that bad of a deal. The hardware feels snappy and you have quite a good selection of apps. With the addition of side loading that opens up a lot more possibilities (maybe xbmc). At $20 I would have picked up a couple of more at that price if I knew these little sticks were this nice.

UPDATE: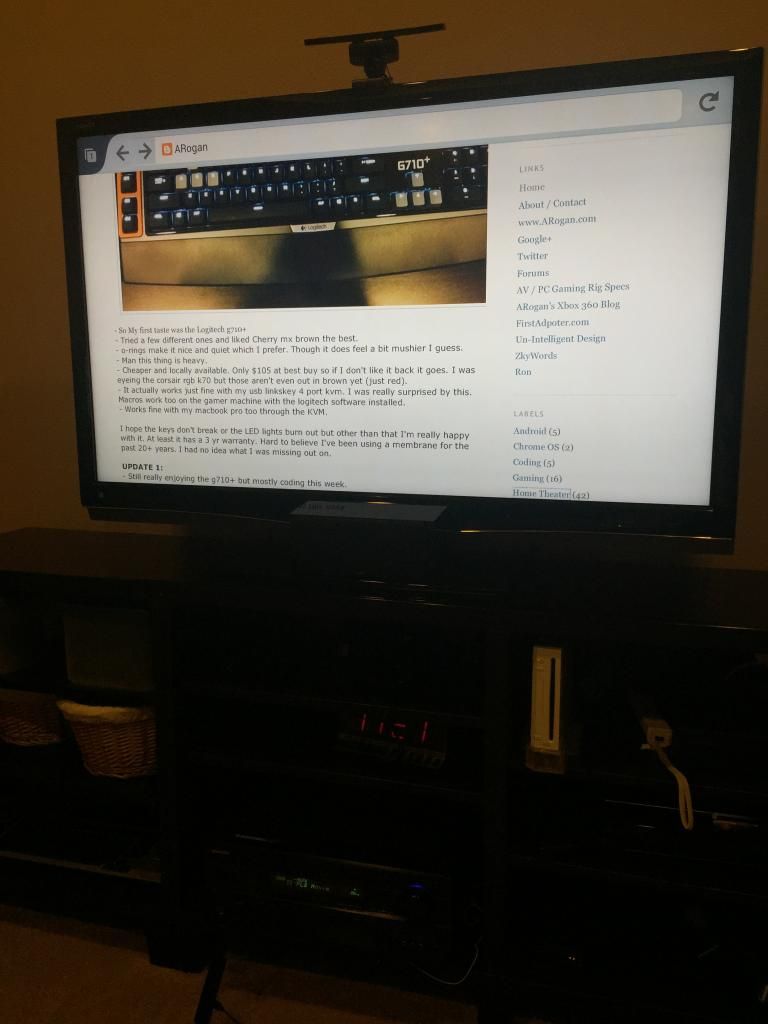 -Wow that took all of 5 min to side load the latest firefox and kodi beta xbmc apks. I enabled both developer options. Apps that you side load show up in settings | Applications | Manage all installed.
Installed 1.3 ADB:
http://forum.xda-developers.com/showthread.php?p=48915118#post48915118
kodi arm beta xbmc:
http://kodi.tv/download/
firefox
https://ftp.mozilla.org/pub/mozilla.org/mobile/releases/latest/android/multi/
tutorial:
http://sideloadfiretv.com/sideload-apps-amazon-fire-tv-windows/
- Streaming 1080p mkv dts play just fine. Looks really smooth. Upped the audio output to 5.1 and my receiver shows multichannel so I guess xbmc is doing the decoding.
So ummm yeah $20 for xbmc, browsing (used the nexus 7 as the keyboard), and android apps. Wow, best $20 spent ever.